Our Minister and Staff
Ministry & Programs
Pastor
Rev. Shayna Appel began serving ASC as its contract minister in September 2016. Ordained in the United Church of Christ in 2006, Shayna's ordination was recognized by the Unitarian Universalist Association in 2014.
Shayna generally preaches at ASC on the second and forth Sunday's of each month, as well as Christmas and Easter.  Additionally, she works with the lay leaders of the church, its Board of Trustees, committees, and individual members, guiding and inspiring as we seek to fulfill the church's mission.
Shayna also has a significant ministry in the area of Trauma and Trauma Response.  She is a founding member of the UU Trauma Response Ministry Team and serves as Chaplain to both the Peterborough (NH) and Townsend (MA) Fire & Rescue Departments.  She is also a member of both the Granite State Critical Incident Stress Response Team and the Massachusetts Corps of Fire Chaplains.
In her free time she enjoys hanging out with her horse Sunflower or motorcycle riding with friends!
Administration & Operations
Office Administrator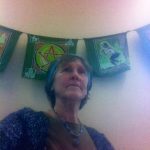 Beverly Miller
" M. Beverly Miller, along with her 2 children Nic and Sarah, were old time members  of All Souls Church  back in the late 1980s.  Beverly found herself back in the company of the good folks of this church as of  last January, 2016 to serve as the newly hired Office Administrator.  It was, and remains, an especially safe and comforting place for her to land  following the death of her son Nic in April of 2014. What brought her here as a member keeps her here now as a staff person, i.e., the warm and heartfelt supportive nature of the members of this congregation."
Choir Director
Tom Baehr
Tom Baehr was named All Souls' choir director in 2015, after 14 years as a church member and as a tenor in the choir.  With bachelor's and master's degrees in music, his background includes experience asa public school music teacher, composer and arranger and music festival coordinator.  He directs the Guilford Chamber Singers and sings with the Blanche Moyse Choral and Illuminati Vocal Arts Ensemble.
Pianist
Eva Frank Greene
Eva Frank Greene has been All Souls' pianist since 2007.  Eva studied piano performance with Abraham Stokman (Music Institute of Chicago). After college, she taught music in Israel for six years; on return to the States, she taught at Sidwell Friends School and the Levine School in Washington, D.C. Eva and her family moved to Vermont in 2007.