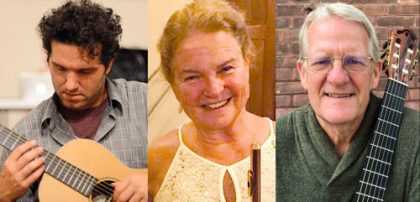 Friends of Music at Guilford (FOMAG) presents "A Celebration of the Classical Guitar" at 3:00 p.m. on Sunday, September 29, in the Chapel at All Souls UU Church. Featured performers include David William Ross and the Procter/Hale Duo of Steve Procter, guitar, and Alison Hale, flute. 
Ross was trained in both classical and jazz guitar at Keene State, Peabody Conservatory, and USC, and has performed throughout the U.S. and in Europe. Recently appointed assistant director of music at The Putney School, he has also taught at Keene State and the Vermont Jazz Center, among other regional schools. He has played, produced, and recorded with classical, jazz, and rock groups. A recent review in The Equinox considers Ross "a refreshing reminder of what the guitar is capable of in the hands of a passionate musician." Ross's repertoire for this concert includes selections by Argentine composer Astor Piazzolla (1921-92), Italian composer Carlo Domeniconi (b. 1947), Japanese composer Toru Takemitsu (1930-96), and Cuban composer Leo Brouwer (b. 1939).
Steve Procter 
has been connected with a wide array of ensembles and musicians over the past forty years. After earning a master's in classical guitar at Ithaca College, he toured the Far East with a classical guitar orchestra, was lutenist in two early music ensembles, and performed in both Turkish and Brazilian groups, among other projects. 
Over more than three decades, his duo with flutist Alison Hale has explored the baroque repertoire, performed classical parlor and concert repertoire, and played 20th century and contemporary works by Castelnuovo-Tedesco, Piazzolla, and others. A repertoire they return to repeatedly is the rich tradition of Brazilian choro music, 
which has a strong formal structure, spicy harmonies, rhythmic complexity, and contrasting moods. 
This Sunday's program by the Procter/Hale Duo includes 
duets by baroque Italian composers Francesco Molino (1768-1847) and Mauro Giuliani (1781-1829). Procter offers 
five solo guitar studies by Spanish composer Fernando Sor (1778-1839), and the duo ends their set with three pieces by contemporary Brazilian composer Celso Machado and 
four choros from Rio.
 Hale earned her BA at Mount Holyoke and went on to earn her M.M. and D.M.A. at the Manhattan School. A winner of the 1981 Artists International Competition, she has concertized in the U.S., Europe, and South American. She is a member of the Portland (Maine) Symphony, Portland Opera Repertory Theatre, and Vermont Virtuosi Flute Ensemble, and teaches at Mount Holyoke and Amherst.